REVIEWS, PROFILES, INTERVIEWS AND FEEDBACK


WHAT THEY'RE SAYING ABOUT ORDINARY HEROES, PETER HUM'S THIRD ALBUM:


Downbeat, June 2020: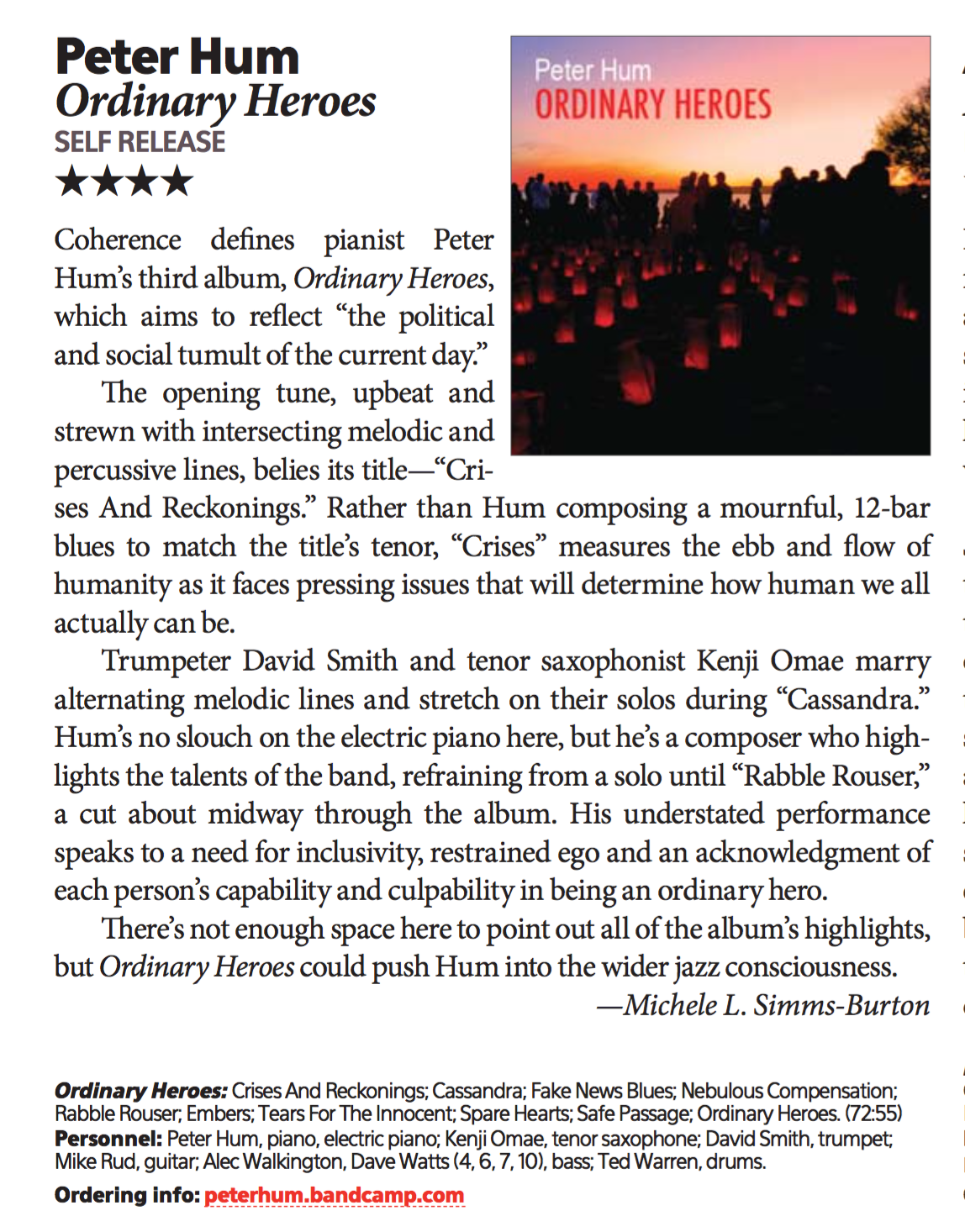 The Rex Jazz and Blues Bar interviewed Peter for its Instagram series of musician profiles during the pandemic. Check it out here.
Peter Had the honour of being featured in the TD JazzYYC Virtual International Jazz Days Festival, which involved being interviewed by Tim Tamashiro in Calgary as part of his Jazz Home Delivery series. The fantastic Toronto guitarist Reg Schwager, a Canadian jazz treasure, was also featured in the same episode, which you can watch below: 
George W. Harris in Jazzweekly.com, May 14, 2020:
"Jazz that gets up, stands up for your rights..ten pieces that are clever and swinging in sound, with messages about social injustices refereed to in each song and title. You don't have to watch MSNBC or Fox News to like or dislike the songs themselves, and the music is impressive... in your ears, with the message not in your face." Full review
London Jazz News, April 25, 2020:
"Ordinary Heroes is a set of ten Hum originals in a firmly melodic, contemporary groove. With the fine band he's assembled to play them, it's a very satisfying set packing an emotional punch... (S)ome really fine playing, repaying repeated listens." Full review

The Jazz Music Blog, April 16, 2020:

"The first observation in listening to this album is the energy and boldness that is naturally evident in the compositions and the structure of their deliverance. Peter Hum and his sextet have created a focused and inventive set of jazz opuses...." Full review

Edward Blanco, All About Jazz, April 6, 2020:

"This is pure straight-ahead jazz at its best, proving once again that Canada remains the home of some of the best jazz musicians in the world... (A) noteworthy set of music bound to please many listeners. Peter Hum's Ordinary Heroes is no ordinary jazz album. It sparkles with amazing compositions and exemplary musicianship." Full review

Raul de Gama, The Whole Note, March 25, 2020:

"Much music that makes reference to man-made tragedies is often strident in tone and utilizes disturbing dissonances to make its point, but Hum's music doesn't do so. The very title of the recording, Ordinary Heroes, provides an insight into Hum's poetics and aesthetic and it is this: principally, disquiet is viewed from a perspective apposite to the violence that causes it. He evokes this in the emotion and intellect of his pianism." Full review
Ivan Rod, ivanrod.dk, March 6, 2020:
(Translated from Danish) "As a listener you are sucked into something that may appear on the surface as easily accessible, melodic and modern mainstream jazz, but which contains many other, deeper and finer layers. Thus, it is in the long run very poignant, beautiful and complex music." Full review
Peter Hum was interviewed by Stanley Pean on Radio-Canada's Quand le jazz est la. Listen here
Peter Hum was interviewed by Alan Neal on CBC's All in a Day drive-home show in Ottawa. Listen here

Peter Hum was interviewed by Montreal's Claude Thibault for his excellent website sortiesjazznights.com. Read it (en francais) here

Peter Hum was interviewed by Artsfile's Peter Robb. Read it here.

Dan Bilawsky, All About Jazz, March 2, 2020:

"Hum shows an acute awareness of how music can reflect circumstances and scenarios... But of equal if not greater importance, his music stands strong on its own... The ordinary heroes in this band have put together a solid statement from start to finish." Full review

S. Victor Aaron, Something Else! Reviews, Feb. 29, 2020:

"Ordinary Heroes is better than your ordinary mainstream jazz because Peter Hum composes, arranges and plays with the finesse and conviction he brings to his political activism."  Full review
Jazz Quad, Feb. 26, 2020:
(Translated from Russian) "Everything is very worthy here: a strong post-bop mainstream with interesting melodic and rhythmic solutions... we have a well-balanced sound and an album that should attract the attention of mainstream connoisseurs - and Trump's opponents, of course!" Full review
Richard Kamins, Step Tempest blog, Feb. 12, 2020:

"Peter Hum and his fine ensemble create a world of possibilities, built on hope and the desire to make positive changes in this time of negativity... Music has more power than we think and can be used for good. "Ordinary Heroes" reminds us of the that all the way through." Full review
Chris Spector. Midwest Record, Feb. 10, 2020:

"Addressing the miasma of times today with his crew feeling the same way, (Hum)  manages to keep it modern and mainstream without letting things roll off the rails in imitation of the times inspiring the sounds. Whether you want to protest along or not, it's a great listening date throughout that makes you think as well as feel." Full review
Keith Black in the Winnipeg Free Press, Feb. 6, 2020:
"Hum's music -- 10 original compositions -- is offered... to inspire and uplift all of us in a troubled world.... The music could probably be described as solid post-bop in style, with excellent writing by Hum and fine solo work by all members... It's admirable and probably rare to fine an individual who can work successfully on both the performance and review side of the arts. Hum has the skill and the courage to accomplish this combination." Full review

Lynn René Bayley at The Art Music Lounge, Feb. 4, 2020:
"This is an excellent album which I strongly recommend for the music and strongly warn against its political motivation." Full review

WHAT THEY'RE SAYING ABOUT ALPHA MOMENT, PETER HUM's SECOND CD:

Stuart Broomer at thewholenote.com, November 2015:

"Pianist/composer Peter Hum may be better known as a jazz and food critic for the Ottawa Citizen, but there's nothing to suggest anything but full commitment to his art on Alpha Moment. Hum leads a sextet here, and his group concept is almost orchestral. His compositions are well formed and subtly voiced, with solos arrayed against his own lush chords, Alec Walkington's resonant bass and drummer Ted Warren's constant sonic shadings. While the band's members are currently spread out geographically, the group clearly came together at a special moment for the Ottawa jazz scene, much of the excitement coming from two Ottawa-raised saxophonists who have since moved on: Kenji Omae, now resident in Seoul, may be the most exciting tenor saxophonist to emerge in Canada in recent years, a powerful, impulsive player who's also capable of lustrous ballad playing; Nathan Cepelinski, now a New Yorker, plays alto and soprano with quicksilver thought and phrasing. Along with glassy-toned Montreal guitarist Mike Rud, the six make up a terrific band, something that's apparent everywhere here, but most pointedly on the aptly named title tune." Full review

Patrick Hadfield at londonjazznews.com, Nov. 9, 2015:

"Hum's piano playing is articulate and understated; his composition is fluent and vivacious. With the quality of playing from his band, it makes a very entertaining record. " Full review

S. Victor Aaron at Something Else! Reviews, Sept. 30, 2015:

"Once again, Peter Hum walks the walk with an album full of strong compositions and strong performances. Alpha Moment is the product of a serious jazz musician."  Full review

Richard Kamins at Step Tempest, Sept. 29, 2015:

"Alpha Moment is a generous album, generous in spirit, in melodies, in solos, adult music that flows ever-forward on the strength of six fine musicians... This is joyous music worthy of your attention." Full review

Dan Bilawsky at allaboutjazz.com, Aug. 20, 2015:

"Alpha Moment is finally here, and it, like all good things, was worth waiting for... (Hum's) musical voice is... captivating, articulate, and thought-provoking." (four stars) Full review

Canadian jazz broadcasting legend Katie Malloch:

"I think the music is wonderful. I love the shapes of your melodies, especially the title track and The Good Fight. Having the CD makes me wish I still had a show to play it on!"

WHAT THEY'RE SAYING ABOUT A BOY'S JOURNEY, PETER HUM'S FIRST CD:

1) Irwin Block's review of A Boy's Journey, The Montreal Gazette, Dec. 1, 2010:

Forward-looking CD sparkles

A Boy's Journey ****
Peter Hum (Independent)
Pianist-composer Peter Hum's debut CD is a celebration -- a modern, forward-looking and mainly upbeat session that sparkles with positive energy. It is also a lyrical triumph, as each of the 10 songs tells a story cohesively, with Hum setting the scene on acoustic or electric piano, then providing background support for development. The CD features stellar playing by saxophonists Kenji Omae on tenor and Nathan Cepelinski on alto and soprano, with creative propulsion from established drummer Ted Warren and a big-toned floor from Montreal bassist Alec Walkington. Highlights include Take the High Road, a hope-filled tribute to Barack Obama's presidential win, New Toy and Big Lou, playful and lyrical ballads to the joys of discovery, and La tendresse s.v.p., a hymn to love. The title track is Hum's ode to his courageous father, while Unagi is funky fun for the ensemble, with Hum cutting loose on electric piano and kick-ass solos by the horn players. With such fine work, Hum can quit his day job as a Citizen journalist!
-- Irwin Block
© Copyright (c) The Montreal Gazette

2) Geoff Chapman, thewholenote.com, June 2011:

Peter Hum "cruises through 10 neat, original tunes secure in his players' long-established musical cameraderie... best jazz comes with the energized Unagi and the cleverly structured closer Three Wishes with its snarling saxes."  Full review

3) Ralph A. Miriello, Notes on Jazz blog, April 1, 2011:

A Boy's Journey "is an auspicious maiden voyage for Hum, who has crafted some fine straight ahead songs that have merit and are played with grace and passion." Full review

4) JazzWrap blog, March 23, 2011:

A Boy's Journey is an "album that holds your attention from beginning to end...a real touch of class from north of the border that you should definitely check out. (Hum's) style is subtle, elegant and joyful." Full review

5) Victor Aaron, Something Else! Reviews, Feb. 5, 2011:

"Peter Hum the musician is all about delivering the song...The end of his own journey finds him at a very good place musically." Full review

6) Chris Smith of the Winnipeg Free Press awards four stars to A Boy's Journey, Feb. 5, 2011:

"The title track, a tribute to his father, and New Toy, a playful piece, stand out on a disc full of fine music. The closer, Three Wishes, is a delight." Full review

7) Richard Kamins, Step Tempest blog, Jan. 26, 2011:

A Boy's Journey is "well thought out, with a strong sense of direction and purpose… filled with handsome melodies, rich harmonies, pleasing interactions, and numerous good solos." Full review

8) Tim Niland, Music and More blog, Jan. 24, 2011:

"This was a very well done and enjoyable album of mainstream jazz. Hum and company investigate many different textures and moods of music and weave together a fine album in the process... His new album has a deep narrative sense, like a prose writer linking together a set of interconnected short stories." .Full review

9) John Kelman, allaboutjazz.com, Jan. 7, 2011:

A Boy's Journey is "an album decades in the making, but clearly worth the wait... (it) resonates with the feel of a familiar group... With A Boy's Journey, Hum makes clear, in no uncertain terms, that he's ready." Full review  

10) Doug Fischer's profile of Peter Hum and A Boy's Journey, The Ottawa Citizen, Nov. 25. 2010

11) «Peter Hum nous présente une musique inspirée et bien ficelée qui possède en elle-même tout ce qu'il faut pour plaire aux amateurs de jazz les plus exigeants.»/ / ("Peter Hum presents well-crafted, inspired music that has what it takes to please the most demanding fans of jazz.")

André Massicotte
Réalisateur-coordonnateur
Radio-Canada

12) "A Boy's Journey is a voyage for the listener too. Hum's compositions are fresh and vital, sometimes contemplative, sometimes blessed with a joyous groove. The instrumental voices of his fine sidemen (Kenji Omae is a splendid surprise to me!) are each strongly individual, but blend with warmth and ease, too. Peter Hum's own playing is coolly lyrical in his frequent introductions, setting the stage for the unfolding of the pieces. This CD is solid and satisfying."

Katie Malloch
Host
CBC Radio 2's Tonic

ELECTRONIC PRESS KIT

Peter Hum short bio:
Ottawa jazz pianist Peter Hum has been a mainstay on the music scene of Canada's capital for three decades. He strives to make music that uplifts listeners with forthright lyricism, strong evocations of moods, and energetic, unfettered improvising. Largely self-taught, Peter was bitten by the jazz bug when he was a teenager, exposed to the music of Keith Jarrett, Herbie Hancock and Chick Corea. He counts himself very fortunate to have performed with such Canadian jazz legends as Sonny Greenwich, Phil Nimmons, Reg Schwager and Pat LaBarbera. Peter has released three albums, A Boy's Journey (2010) and Alpha Moment (2015), and Ordinary Heroes (2020). The latter received a four-star review in Downbeat magazine and was celebrated by touring in 2020 and 2020 that visited Toronto, Kitchener, Ottawa, Montreal, Charlottetown, Antigonish and New Glasgow. Peter presents his original music for contemporary jazz sextet by drawing from a pool of top-tier Canadian talent, including Peter's friends Halifax-based saxophonist Kenji Omae, Brooklyn-based trumpeter Dave Smith, Montreal guitarist Sam Kirmayer, Montreal bassist Alec Walkington and Guelph-based drummer Ted Warren. Outside of his musical pursuits, Peter has been a full-time journalist with the Ottawa Citizen since 1990.
 
To view Peter Hum's longer fall 2019 biography (a pdf file), click here

For the press release (a pdf file) for Peter's CD Alpha Moment, click here.
For the one sheet (a pdf file) for Peter's CD, A Boy's Journey, click here.

For a high-res photo of Peter Hum's Ordinary Heroes band, click here. (Photo credit: Randy Cole)
For a high-res photo of Peter Hum, click here. (Photo credit: Randy Cole)
For a high-res vertical photo of Peter Hum, click here. (Photo credit: Bruno Schlumberger)
For a medium-res vertical photo of Peter Hum, click here. (Photo credit: John Fowler)
For a arty high-res horizontal photo of Peter Hum, click here. (Photo credit: Bruno Schlumberger)
For a medium-res horizontal photo of Peter Hum, click here. (Photo credit: John Fowler)

(To download the photos, right-click and choose "Save Image As")

For more information or to request a review copy of A Boy's Journey or Alpha Moment, e-mail Peter.